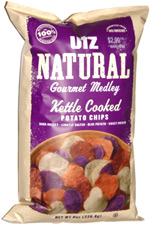 Gotta admit, I wasn't wild about eating colored chips, but these things are pretty darn good. They do have a slightly different flavor with the sweet and blue potatoes, so I'm not sure how they'd be with my favorite dips. (I suspect, though, slathered with enough onion or bacon/horseradish dip, I could choke them down). Eaten plain, with a sandwich or sub, they're very good.
According to the Utz website, these are made from "...Whole fresh potatoes, sliced and cooked in 100% pure expeller pressed sunflower oil, with sea salt added. No preservatives added. Contains no hydrogenated fats. This is a gluten free food. No MSG added. Gourmet Medley contains regular, dark russet, blue and sweet potatoes."
Utz is a regional brand, distributed from eastern NC through the New England states. They can be ordered online at
www.utzsnacks.com
.